Your guide to protecting your airbnb in Des Moines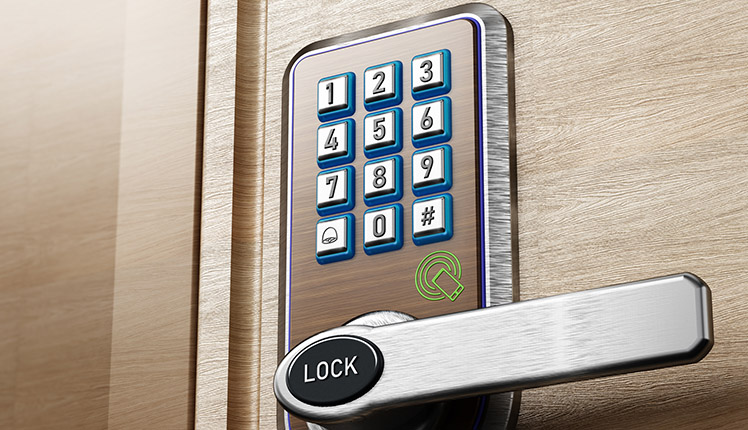 Whether you sublet the family lake house or have an assortment of Airbnbs, it's often difficult to protect your rental properties in Des Moines. With a constant turnover of guests, it's easy to lose a key when someone leaves or discover you're missing an expensive item. In addition, what would you do if there's a flood or fire at your Airbnb while you're offsite?
From smart locks to comprehensive security with home automation, here are some helpful tips on how to protect your Airbnb in Des Moines.
Don't worry about keys when you use smart locks
When a renter vacates the premises, they might return all keys for the following inhabitant. Although, if a tenant snatched or copied a key, they could re-enter later. Certainly, you have the option to switch out your locks if a key goes missing, but that takes time and money.
You'll want to install smart door locks that operate in conjunction with your security system to alleviate these worries. You will then provide each renter their personalized access code. When tenants leave, there's no reason to mess with an exchange of keys. All you need to do is customize the door code to expire when they exit. If past occupants come back and make an attempt to enter with their previous access code on the keypad, you will be alerted with an update of the failed attempt on your mobile device.
Home automation makes empty properties appear occupied at all times
Of course, you hope that your Des Moines rental property will have a steady flow of renters, but that's not always true. Nevertheless, you always want to make it appear that people are present so your place isn't a potential target for thieves. Incorporating a security system that includes home automation allows you to take advantage of smart light bulbs, motion sensors, and video cameras that make your lodging appear occupied.
Begin by scheduling your smart lighting to turn on at specified times of the day. Then, use your security app to alert you if your exterior cameras spot someone prowling around your perimeter or approaching the front door. You have the opportunity to use the 2-way talk functionality to make them aware that they're being watched or program your smart lights to automatically illuminate when a camera or motion detection equipment uncovers questionable movement.
Protect your Des Moines Airbnb with 24/7 monitoring
Your tenants will have more peace of mind if they feel protected against intruders, particularly when Des Moines is not familiar to them. If a prowler attempts to gain entry, your home security system will not only initiate the alarm siren but will also ping your 24-hour monitoring professionals. Regardless of your location, emergency services will be forthcoming. Your monitoring specialists are capable of acting as your authorized go-between and communicate with you whenever you're available.
Besides intrusions, your monitoring hub can link to fire alarms, flood detectors, and carbon monoxide sensors. It can be upsetting for your visitor if a pipe bursts or a fire erupts. Not only will you receive a cell phone notification that an emergency has occurred, but the monitoring agent will also arrange for assistance while you're on the way.
Order an innovative home protection plan in Des Moines
Protect your Des Moines rental with a home security system. Thankfully, Vivint provides great features like smart lights, smart door locks, and 24/7 monitoring. Contact us today and our home security experts will personalize a plan that's ideal for your property. Phone (515) 972-5232 or fill out the form today!